ZELOSIA PUPPY INFORMATION
If you are interested in adding one of our well-bred family companions to your home, we welcome your inquiry via our contact form below. Currently, we are taking inquiries for litters planned for fall 2023/winter 2024 for Cavaliers, and our next litter of English Toys is not yet planned. The typical wait time for a Zelosia puppy is 6-12 months. Please read more about our placement process HERE.
Please note: Zelosia puppies are available as companions only. I do not place puppies into breeding homes, nor do I place puppies as Emotional Support Animal or Service Dog prospects. 
A FEW NOTES ON PLACEMENTS AND SERVICES...
We believe that the Cavalier King Charles Spaniel and English Toy Spaniel are delightful, robust toy breeds worthy of careful preservation into the future so that the next generations of dogs lovers may also enjoy them and their cherished qualities. 

Our boys are NOT AVAILABLE at public stud. We only very rarely agree to an outside breeding with our established friends who share our goals, philosophies and vision for the future of the breed. While some may call this "gatekeeping," we call it protecting the integrity of what we have worked so hard to establish and produce. We are not stopping anyone else from committing to the same hard work and research that led us to create our current caliber of dogs. It takes so much effort to cultivate a quality line of dogs and so little effort from someone else to destroy one's reputation. If you are looking for a stud dog for your bitch, you will need to look elsewhere. 

Our dogs are not available for sale as "breeding stock" for others' breeding programs. On the rare occasion we part with one of our puppies to a show home, it is to one of our established friends who share our goals, philosophies, and vision for the future of the breed. We share dogs with those who have helped us cultivate our own pedigrees and and helped us to be a better breeder. It takes so much effort to build a quality line of dogs and so little effort from someone else to bring it to collapse. Therefore, we do not sell bitches (or dogs, for that matter) as breeding stock. If you are looking for a new dog or bitch for your breeding program, you will need to look elsewhere.  

My dogs and I live in our home and not in a kennel environment, thus my home is not open for public visitors, as this is an obvious safety and infection control concern. Families who have been selected for a puppy or dog will be scheduled a visit.

I am always happy to "talk dogs" at a local show. After we show, there is usually available time for visiting, unless I have to run off to another competition or health clinic, etc. If you would like to come meet some of the Zelosia crew, here is a list of shows we will be attending:

Walla Walla Kennel Club/Richland Kennel Club: September 28-October 1, 2023 in Kennewick, WA 

Vancouver Kennel Club: October 28-29, 2023 in Ridgefield, WA
If you are interested in a Zelosia puppy or adult as a cherished companion, please continue reading my puppy page below: I have lots of information with puppy buyer tips & how to start research for both breeds. An inquiry may be submitted directly via the form embedded on my puppy page.  
At this time, Zelosia puppies are only available to loving companion homes, with some availability for performance/sport homes. Unfortunately, due to the recent undercutting, shameful behavior of a few people to whom we've dedicated HOURS AND HOURS of our time helping, we are unwilling to place show prospects and/or provide 1:1 mentorship for the foreseeable future. We can, however, suggest clubs and handling classes where new folks can get started, as well as breeders who may have the ability to take on an eager new fancier.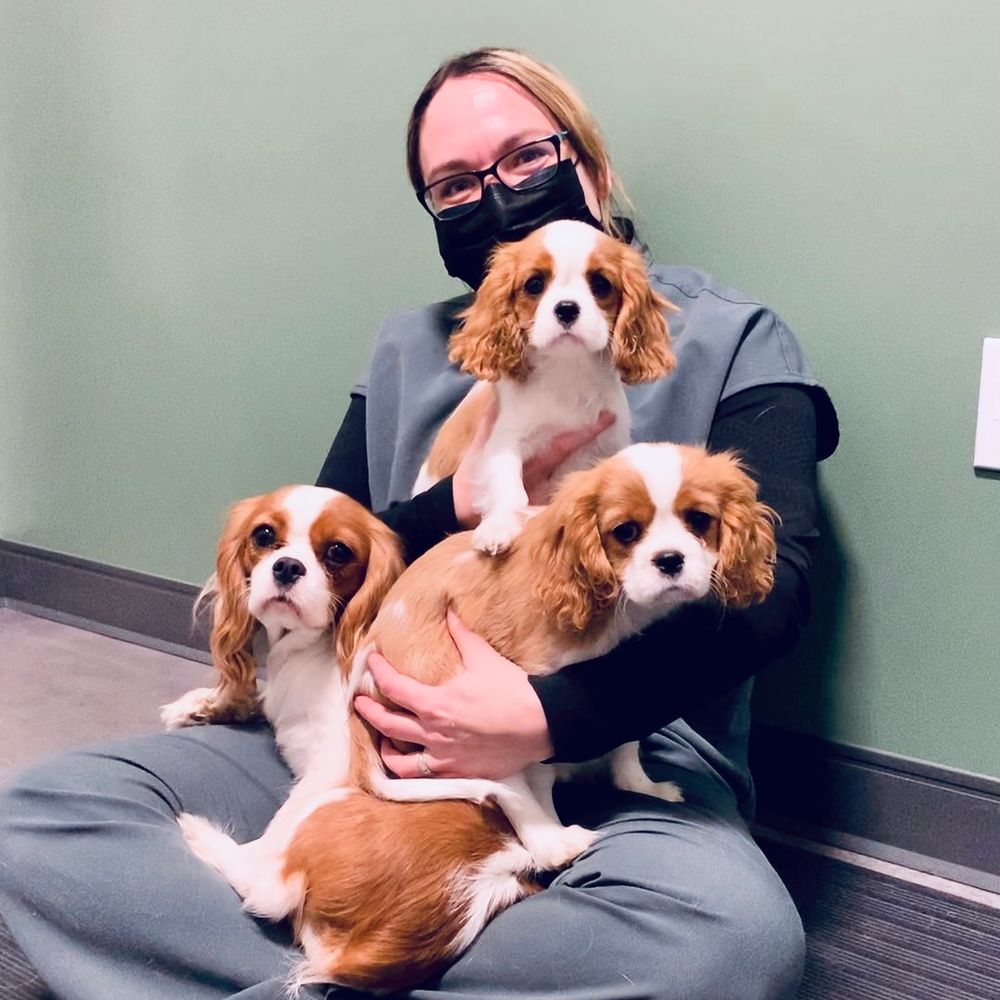 FUN AT THE NEUROLOGIST
DR. STEELE WITH VANNA, IBIS, AND BUDGIE
OUR DOGS AND PUPPIES ROUTINELY SEE BOARD-CERTIFIED SPECIALISTS FOR EXAMS AND SCREENINGS FOR INHERITED AND CONGENITAL DISEASE. PICTURED IS DR. MEGAN STEELE, DVM DACVIM (N) - READ MORE ABOUT OUR STELLAR VETERINARY PROVIDERS BELOW
VETERINARY TEAM (WITH GRATITUDE!!!)
PUPPY BUYER ETIQUETTE AND TIPS
Searching for reputable breeders can be very challenging. Since the pandemic began, breeders have been inundated with mass quantities of inquiries by email, phone, and even social media platforms. Additionally, there are always unscrupulous people in the world looking to make a quick buck by selling poorly bred animals or scam people out of "deposits" when no puppies exist at all! I will outline a couple of important considerations below (some are specific to my needs, but most tips apply to breeders across the board):
1. Start your research at the breed's parent club (for Cavaliers, that's ACKCSC and for ETS it's ETSCA). Parent club websites have tons of info about the breed, including health concerns, characteristics, history, and breeder referral. Please do not expect a breeder to have time to educate you on every aspect of the breed you are considering - when you inquire to a breeder about dogs/puppies, you should be quite sure the breed is a good fit for your family. 
2. Use your research to introduce yourself to the breeder. It is exceedingly unhelpful for an inquiry to consist solely of "we want a Blenum Cavy girl, how much?" If your main concern is the price of a puppy, and you haven't done enough research to spell the breed or its colors correctly, your inquiry will not be taken seriously. An initial inquiry should consist of detailed information about you, your family, your lifestyle, your dog experience, and any other information that helps illustrate why a Cavalier or an ETS is the right choice for your family. 
3. Initial inquiries should come to me via my contact form on this page (below). Having inquiries in writing, in one format, and arriving in one location, REALLY helps keep me organized. Recently, due to the huge volume of inquiries, I am generally able to reply on weekends only. I NEVER reply to inquiries that come across social media platforms, as I consider that completely inappropriate. I also never take initial inquiries via telephone, and my voicemail greeting indicates this. My dogs are not my source of income; I work full-time to support myself and the dogs, and I simply do not have 6-8 hours per week to spend on the phone with everyone who calls. However, I always schedule a phone call with prospective homes after we connect and have a conversation via email first. 
4. A persistent, polite interest in my breeding program is appreciated. This shows me that a family is still interested in a puppy from me. Most of the time, after I respond to an initial inquiry, I never hear from people again. I appreciate it when people check in with me for basic updates about my plans, and if I might have puppies. I also am never offended when people are inquiring with multiple breeders simultaneously, and usually I will encourage this, as my breeding program is small and I can't possibly have a dog available for every great family that inquires. 
5. Please be patient and understand that this is my hobby and biology isn't perfect; breeding dogs comes with both joy and sorrow. Puppies sometimes die, and sometimes I can't do a breeding I planned. I do not "fill orders" for others or do breedings based on anyone's needs except my own - I always do a breeding when the goal is for me to keep a puppy or puppies for myself. Cavaliers and ETS are toy breeds and do not generally have large litters. A litter of 3-4 is average and they frequently require around-the-clock neonatal care for the first couple of weeks. 
6. Pricing: you can expect to pay $4000-5000 for a well-bred puppy from a reputable breeder in the Pacific Northwest. Reputable breeders health test their dogs annually by board-certified specialists (cardiologist, ophthalmologist). Here at Zelosia, as of 2021, we have begun to incorporate MRI scanning of our own dogs and bitches into our health screening protocol. MRIs are very expensive, with scans sometimes costing up to the price of a puppy. We also use advanced breeding techniques (progesterone timing, transcervical insemination, international semen shipping, etc.) that make it possible to breed to dogs across the country and the WORLD, thereby increasing genetic diversity and incorporating robust health into our pedigrees. These kinds of responsible breeding practices are quite costly (it usually costs me $2000-4000 in expenses JUST to do a breeding - and that is with no guarantee that any puppies will result!), and while we are not making a living off our dogs, we do have to try to cover our expenses so that we can reinvest in the next generation.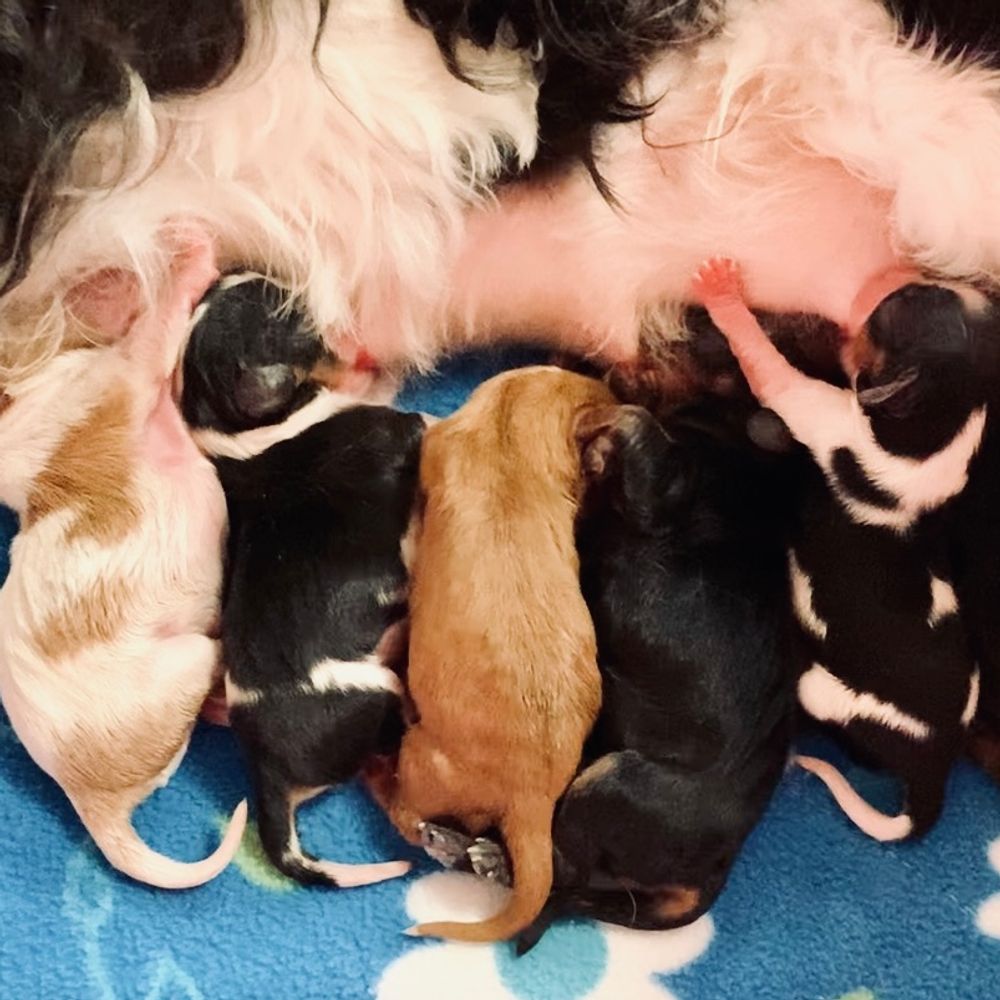 YOU'VE READ THE ABOVE? DONE YOUR RESEARCH? READY TO INQUIRE ABOUT A ZELOSIA PUPPY?
PLEASE SUBMIT AN INQUIRY USING OUR CONTACT FORM BELOW
PLEASE ANSWER THOROUGHLY AND THOUGHTFULLY...THANK YOU!
SUBMISSION OF AN INQUIRY DOES NOT GUARANTEE WE WILL CHOOSE TO PLACE A DOG OR PUPPY WITH YOU