ZELOSIA CAVALIERS & ENGLISH TOYS ~ WELL-BRED, FRIENDLY SPANIELS THRIVING IN PORTLAND, OREGON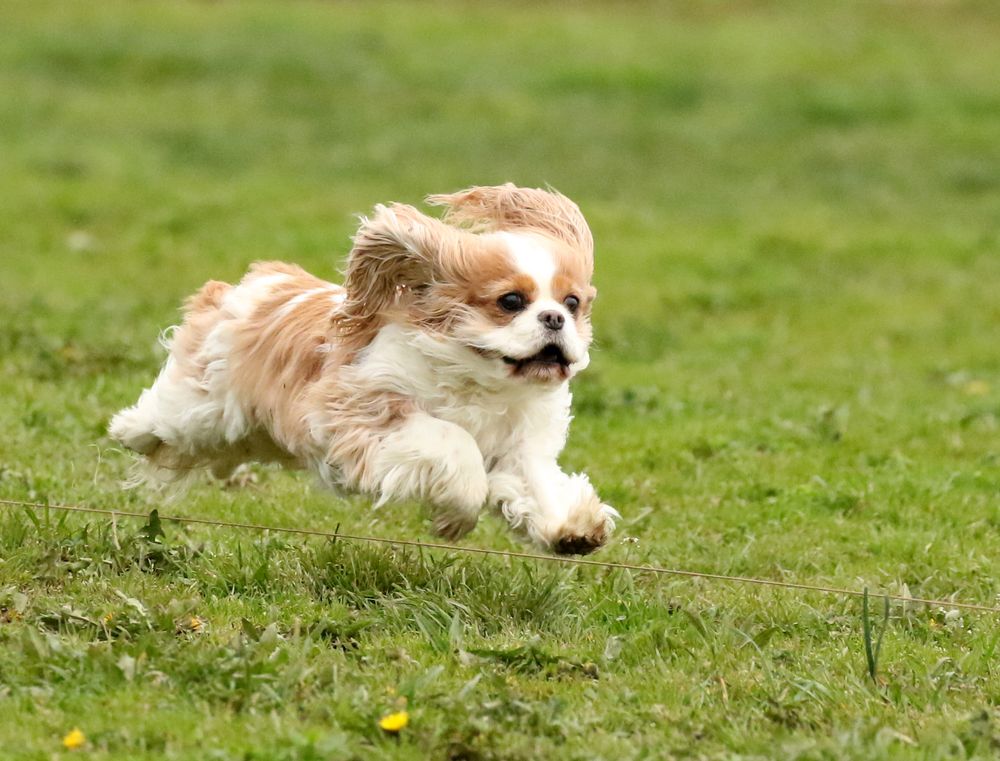 Welcome to Zelosia Cavaliers and English Toys! We are a small-scale hobby breeder dedicated to maintaining an active, scrupulous breeding program in Portland, OR! We adore these breeds and recognize that their robust preservation is essential if they are to be enjoyed by generations to come. 
My entry into the world of purebred dogs began in 1996.  I was 12 years old and joined a local 4-H dog club, where I learned how to train and show my American Eskimo, Bianca.  In my first show at the Clackamas County Fair, I was awarded Best in Showmanship (thank you to the judge, the late David Krogh-who also finished Truffle's AKC Championship in 2016!) and never looked back!  Bianca and I had a short career together due to her advanced age (11 years old!) when I began showing her, and since I was entering high school and choosing a career, my newfound hobby was put on the back burner.  I was 18 years old when I got Jasmine and was smitten by the Cavalier King Charles Spaniel. 
Although Jasmine had two beautiful litters by Am/Can CH Hartscontent Who's McGwire, because of my commitment to college and pursuing my career in nursing, I was never able to bring home a puppy of hers.  I did show her a couple of times in Veterans before she retired to the couch permanently!  In 2010 a series of serendipitous events allowed me to bring home Cailloux Fire Dancer, better known as Opal.  She is Jasmine's granddaughter, and my first show dog. 
We are proud to have been involved in this special breed since 1999 and "owned" by them since 2002. In 2014, we had our first litter and established ourselves as a reputable Cavalier breeder. We added the jolly English Toy Spaniel in 2018, and had our first ETS litter in 2021. Our active, conscientious breeding program is located in the Portland, Oregon area. 
Zelosia is a unique derivative of the word "celosia," which is a plant known for its beautiful blossoms.  The word "celosia" is greek and translates to "burning flower."  I wanted an affix for my Cavaliers that honored both my foundation girls, my flower Jasmine and my little "Fire Opal."
~ Mia Lawson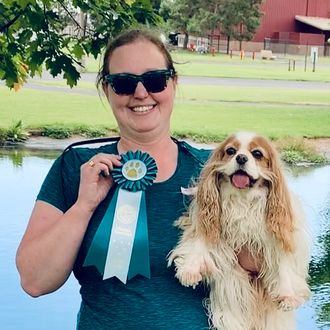 Opal getting her BCAT title at age 12!
We are proud to exhibit our dogs not only in conformation, but also in select performance events, including CAT and FAST CAT trials. We are dedicated to the robust versatility of these toy spaniels.
My dogs and I live in our home and not in a kennel environment, thus my home is not open for public visitors, as this is an obvious safety and infection control concern. Families who have been selected for a puppy or dog will be scheduled a visit. I am always happy to "talk dogs" at a local show. After we show, there is usually available time for visiting, unless I have to run off to another competition or health clinic, etc. If you would like to come meet me and some of the Zelosia crew, here is a list of shows we will be attending:   
Greater Clark County Kennel Club: December 2nd and 3rd, 2023; Clark County Event Center
Rose City Classic: January 18th-21st, 2024; Portland Expo Center